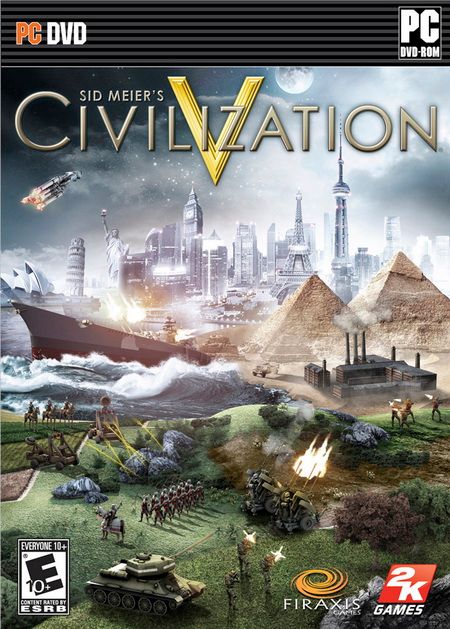 Year: 2010
Genre: Strategy (Turn-based / Grand strategy) / 3D
Developer: Firaxis Games
Publisher: 2K Games
Publisher in Russia: 1C-SoftKlab
Language: English

3.251 GB ISO Image
3.100 GB when mounted
Game install is 4.50 GB
Game installed on Windows7/32bit/Pro
Game Info
For almost twenty years a series of Civilization worldwide has sold over
nine million copies of the game, making it the greatest global strategy today.
The fifth incarnation of the legendary Civilization "takes on a new level
of quality: opportunities and development options greatly increased, the
opponents have become smarter, network game - interesting and varied, and
the graphics - beautiful.
To hold his nation through the ages - from primitive society to a high-tech
civilization, to survive the golden age, and stand at the origins of world
religions, to reinvent the wheel, and a nuclear reactor, built the Pyramids
and the Statue of Liberty, to meet with the greatest political leaders, to
manifest themselves in the role of a diplomat or a strategist - Sid Meier's
Civilization V will realize your dreams!
Game Features
•INVITING PRESENTATION: Jump right in and play at your own pace with an
intuitive interface that eases new players into the game. Civ veterans
will appreciate the depth, detail and control that are highlights of the
series.
•BELIEVABLE WORLD: Ultra realistic graphics showcase lush landscapes for
you to explore, battle over and claim as your own. Art deco influences
abound in the menus and icons in the most well-designed Civ ever developed.
•COMMUNITY & MULTIPLAYER: Compete with Civ players all over the world or l
ocally in LAN matches, mod* the game in unprecedented ways, and install
mods directly from an in-game community hub without ever leaving the game.
Civilization V brings community to the forefront.
•WIDE SYSTEM COMPATIBILITY: Civilization V operates on many different systems,
from high end DX11 desktops to many laptops. Enjoy unlimited installations
on multiple PCs with your Steam account and take your Civ V experience with
you everywhere you go.
•ALL NEW FEATURES: A new hex-based gameplay grid opens up exciting new combat
and build strategies. City States become a new resource in your diplomatic
battleground. An improved diplomacy system allows you to negotiate with fully
interactive leaders. Custom music scores and orchestral recordings give Civ V
the level of polish and quality you expect from the series.
Minimum System Requirement
•Operating System: Windows® XP SP3/ Windows® Vista SP2/ Windows® 7
•Processor: Dual Core CPU
•Memory: 2GB RAM
•Hard Disk Space: 8 GB Free
•DVD-ROM Drive: Required for disc-based installation
•Video: 256 MB ATI HD2600 XT or better, 256 MB nVidia 7900 GS or better,
or Core i3 or better integrated graphics
•Sound: DirectX 9.0c-compatible sound card
•DirectX®: DirectX® version 9.0c
•Other Requirements:
software installations required (included with the game), Microsoft Visual
C++2008 Runtime Libraries and Microsoft Direc
MU 1GB links interchangable with File Serve 1GB
3.251 GB ISO Image. 1GB/4 Downloads
Language: English
5% Winrar Recovery Record included in downloads
http://www.megaupload.com/?d=EPLZXSMY
http://www.megaupload.com/?d=UZZ0QPD6
http://www.megaupload.com/?d=9ZJCMOPE
http://www.megaupload.com/?d=G01EEK64
password: tooth
SKIDROW 1.0 crack "folder"
http://www.megaupload.com/?d=E1526OUM
password: tooth
How to install:
1-download files and run winrar "test archive"
2-extract ISO image to any folder
3-follow screen shot install below